Curtis & Patricia Howe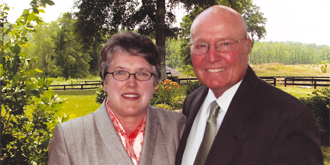 Since graduating from Bob Jones University, Curt ('66) and Pat ('68) Howe have been active in the business world and in ministry. For the first years after graduation Curt worked in the marketing and sales division of Lee Jeans. For the past 29 years he has worked in the hospitality field, primarily with Hampton Inn. Throughout the years Curt and Pat have been very active in local church ministry. For 12 years they were youth directors and helped plant a church and establish a Christian school. Presently in semiretirement, Curt is a chaplain to Hampton Inn employees.

Believing in the mission of Bob Jones University and thankful for its direction, Curt and Pat have sent three of their four children to BJU (their fourth, a baseball player, attended Clearwater Christian College) and are hoping that their grandchildren will attend. Along with providing for their children in their will, the Howes want to have a continued part in the training of young people for Christian service and have also included BJU.